Even with excellent ZO skin care products and treatments, your gorgeous skin will begin to show its age. Maturing skin with decreased elastin and collagen production will develop more creases, wrinkles, and lines with loose skin around the jowls, chin, and neck. To ease these indications of aging, The ZO Skin Centre Dallas provides FaceTite by InMode to address these issues without surgery.
This exciting nonsurgical procedure, performed only by plastic surgeon Dr. Phillip Dauwe, uses radiofrequency-guided lipolysis to melt and dislodge fat cells in your face. Your skin will react by allowing collagen to be created at a swift rate, which will give your facial features a firmer appearance. It is possible to receive a smoother, more youthful look without the invasiveness and downtime of a skin lifting operation. We invite you to schedule an appointment in our Dallas, Texas ZO Skin Centre with Dr. Dauwe to find out more about FaceTite and its remarkable advantages.
Reviews
"Amazing visit. Have been here now twice and will continue to come back! Ask for Courtney RN for all of your Botox and injection needs. Everyone is super professional and it is nice to find a place were everyone that works there is pleasant. I will definitely try some other services soon! If you have not been here definitely make an appointment. Courtney R.N has me coming out the pandemic 10 years younger!"
- V.B. /
Yelp /
Jun 26, 2020
"What an amazing appointment with Carrie for a  hydro facial. I don't have enough good things to say about her service. Will be back in a month!"
- T.W. /
Yelp /
Aug 06, 2020
"Amber is a sweetheart! Brows on fleek! Kerry is also amazing. Walked out with glowing skin. Both listened to my concerns and provided great customer service. I will be visiting again soon!"
- M.B. /
Google /
Aug 09, 2020
"This was my third visit to the ZO Skin Centre in Dallas and tops best facial I've had in Dallas over the past 8 years. Some estheticians take shortcuts, but not Kylie. Kylie was exceptional and thorough in her applications. She provided a hydro-facial with masterful technique. I'm a two year client to ZO products recommended by my dermatologist. And it's the only product I've used that doesn't cause other conditions and actually improves my skin"
- K.B. /
Google /
Sep 06, 2020
"They have such an amazing staff, that's what sold me on going to their location over the other places I went for consultation. Courtney is enjoyable to work with and he's very informative! After my first visit, I was absolutely so excited to go back for my appointment today."
- V.S. /
Yelp /
Sep 02, 2020
Previous
Next
FaceTite can be a great choice for smaller, more sensitive areas. Candidates may have marionette lines that form around the mouth, wrinkles or bags below the eyes, and/or loose skin around the neck and chin region. You're a great candidate for this treatment if you are experiencing early signs of aging and wish for an improvement in your natural collagen production. To be able to undergo this therapy, we ask that you not be pregnant or have had facial injections performed in the previous 6 – 8 months.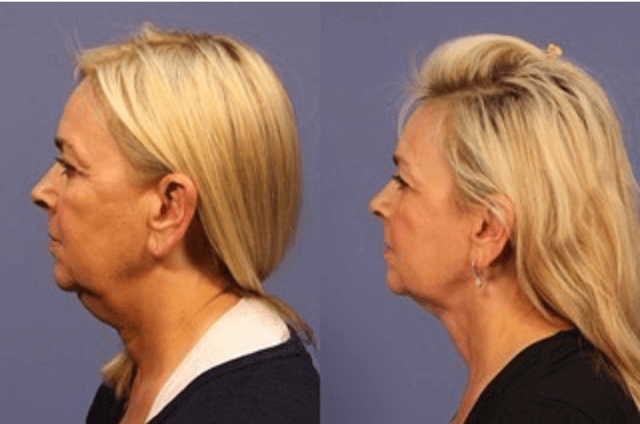 During your FaceTite procedure with Dr. Dauwe, you will receive a local anesthetic in the area of treatment. FaceTite involves a minimally invasive process by our physician placing a tiny cannula beneath your skin. Once the cannula is properly placed, the temperature will be raised but controlled and monitored through external and internal thermometers. The radiofrequency power the FaceTite device releases should minimize fat cells and will additionally cause your skin to contract, igniting an increase in collagen production. Sessions normally last about 45 minutes per each treated area.
Following a FaceTite treatment, you'll be asked to return home to rest and relax for the remainder of the day. You should be ready to go back to your daily routine by the next day. It will take approximately three days for any discoloration or swelling to fade. Strenuous exercises and activities should be avoided for approximately two weeks. You may notice some results after a FaceTite therapy, however, it takes time for the collagen to grow. Full results can be seen in 3 – 8 weeks afterward. Your results will likely be long lasting should you maintain a healthy weight through a proper diet and a exercise plan.
Surgeries like a neck lift or facelift are not your only available option for producing tighter, more youthful skin. FaceTite, performed only by our physician, utilizes a special radiofrequency-assisted lipolysis to eliminate targeted fat cells and tighten your skin. Call now to schedule your appointment with Dr. Dauwe at The ZO Skin Centre Dallas.