About Skin Health Consults
During a dermatological consultation, you can speak with one of our experienced physicians and medical team members about the state of your skin health. At The ZO Skin Centre in Dallas, Texas, we offer world-class skin care treatments and at-home product options to manage skin conditions like acne, rosacea, and more. Our patients of all ages can also take advantage of our laser treatments and cosmetic injectables if desired. Learn more about the different skin conditions we can consult with you about during your appointment on this page of our website.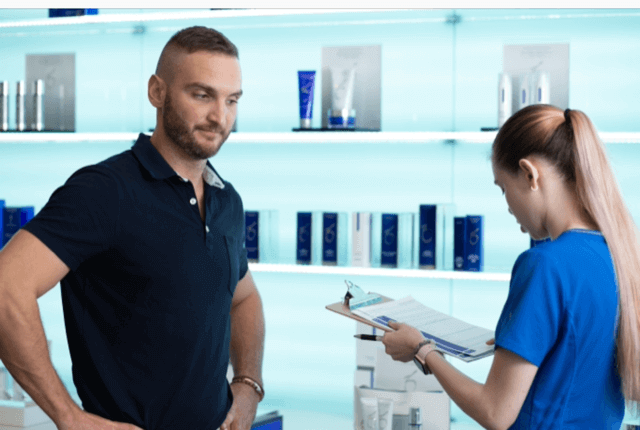 Teens and adults are both welcome to have an acne consultation at The ZO Skin Centre. We are trained in managing all types of acne. Our highly skilled medical team takes a different approach with teen acne and adult acne. Why? It's not really the same condition. When a teen has an acne flare up, it is because of active oil glands that produce too much oil. The extra oil then gets trapped in the pores. Typically, teens have acne on their back, shoulders, chest, and especially anywhere on the face. Not only is it unattractive, it is harmful to the health of the skin as it can cause scarring, discoloration, and textural changes. Hormonal activity is the main culprit in adult acne, which is mainly found on the lower face, chin, and jawline. Teens and adults may be encouraging the skin to produce acne through bad diet, medications, genetics, a stressful lifestyle, cosmetics, or harm from a harsh or toxic environment. During your acne consultation, we will assess the skin for problem areas, identify the type of acne, and plan for a vigorous treatment plan to get the acne under control.
When struggling with an ever-present bout of hormonal or genetic rosacea, you may experience a red tint (blushing) to your facial skin, see red capillaries on the cheeks and nose, have acne, and dry skin. While we do not have a cure for rosacea conditions, we can do our best to manage and control the damage to the skin. It is very important to have a thorough evaluation and analysis if you suffer from rosacea no matter if it is in a mild or severe stage.
At The ZO Skin Centre, we can educate you on how to care for your skin with calming treatments you can use at home. A healthy skin care routine may be the only recommendation we have for mild cases of rosacea and help soothe inflamed skin. For more severe cases, we will also suggest a daily skin care routine and a customized combination of therapies, such as a ZO Controlled Depth Peel or ZO Retinol-based product. Our skin care specialists provide the caring, calming treatments your weak skin requires so that you can enjoy having beautiful skin regardless of rosacea.
Skin Health Consultation Reviews
"The establishment is super nice and upscale and the staff was extremely helpful. Definitely coming back."
- A.M. /
Yelp /
Dec 06, 2017
"Amber and her counterpart (very sweet lady in training) were knowledgeable and friendly. I went in just to restock on some empties from Zo, but now I am absolutely going back and purchasing more products/services."
- C.T. /
Yelp /
Oct 28, 2019
"I love ZO skin Center in Dallas. The staff is amazing and always answers all of my questions. Mia even gave me a written step by step guide on what order to apply my products which was very helpful once I got home. The staff is very friendly."
- M.C. /
Yelp /
Mar 20, 2020
"Love ZO Skin Centre! I am always one who likes to gather all of my information and lay it all out in front of me before making decisions - especially where my face is involved. I was transitioning off of having a baby & breastfeeding and called WAY ahead of time to ask my plethora of questions about the best timing to come in and begin my skin & eyebrow treatments. Mia not only answered all 273873 of my questions but she did so knowing I wouldn't be booking for a while, never once pushing to make a sale, but leaving me equipped with the best info for when it was my time. The best part is my colorful personality seemed to have left an impression  and when I finally made it in she remembered me like we were old friends. They cultivate a relationship based client experience which having been in sales management in the past makes me so happy to experience it on the other side of the transaction."
- T.C. /
Yelp /
Mar 16, 2020
"HANDS DOWN the best skincare you will ever own. And the most amazing staff to go along with it. Mia is a gem and so helpful. Before my first visit to the centre she gave me a phone consult and had tons of products set out for me to try. It was such an amazing and personalized experience I just couldn't say enough good things about this place. GO. NOW!"
- N.N. /
Google /
Mar 21, 2020
Previous
Next
Best Candidates for Skin Health Consultation
No matter what type or condition your skin is in, you will qualify as a candidate for our skin health consultation. As you meet with one of medical staff, you can express your concerns for each skin condition you are experiencing. We will analyze your skin, discuss in detail your medical history, and how you are currently managing the problem. Then, together, we will come up with a treatment plan for your skin care.
Plan Your Service
Typical Service Time

30 – 45 Minutes
Contact Us
If you have concerns about your skin and are not sure how to treat it, we can assist you at The ZO Skin Centre. Our amazing staff will sit down with you to discuss all the questions you have about acne, rosacea, or any dilemma your skin is presenting that needs some TLC. You may also just want to be proactive in preventing premature aging of your skin. We can discuss ways and products to keep your skin looking radiant and younger for longer with proper skin care. Request your consultation today.
Related Services