FREEZE THE FAT AWAY WITH THE COOLEST FAT REDUCTION TREATMENT IN TOWN
ZO Skin Centre in Dallas, TX is a certified medical facility for CoolSculpting. This treatment offers men and women a new way to a slimmer figure with nonsurgical body contouring through the advanced CoolSculpting technology. Cryolipolysis, the science behind CoolSculpting, works to expose fat cells to a method of controlled cooling which freezes cells and causes them to die. The body then eliminates the destroyed cells through a natural elimination process. CoolSculpting has become a preferred fat reduction treatment because of its known safety and precision. During this procedure, the surrounding skin and tissue are not affected. Our team recommends this treatment for problematic areas that exist around the abdomen, flanks, lower back, and thighs. Some patients may require more than one treatment, with optimal results showing in about 2 – 4 months.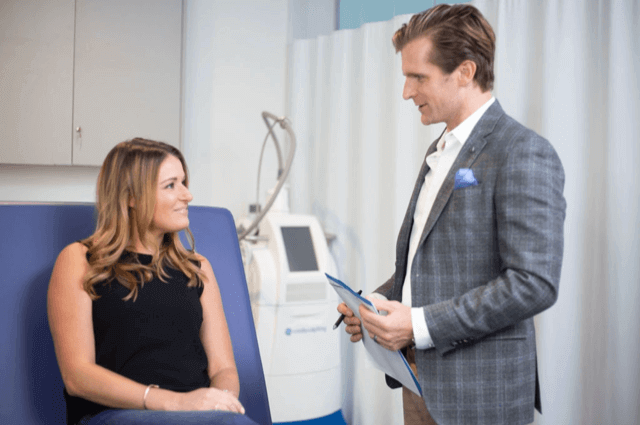 CoolSculpting Reviews
"I had cool sculpt at ZO at the Shops of Highland Park. The employees were Amazing and very informative. I love the results!!!"
- S.W. /
Google /
Dec 03, 2017
"I finally bit the bullet and tried CoolSculpting and so glad I chose ZO Skin Centre. I had two friends recommend ZO so I booked a consultation. Stephanie was super nice and answered all of my questions and helped asses what I needed to do in order to achieve my results. The actual treatment wasn't that painful (I'm a baby). It was made easier by catching up on Netflix on their TV and they even grabbed me a hot tea to combat the cold. I'd highly recommend Stephanie & ZO for anyone looking for an upscale medspa."
- L.S. /
Yelp /
Dec 28, 2017
"Love the entire facility. Management is fantastic. Very clean and professional environment. In love with my brows by amber and had my lips corrected and perfected by Courtney. I can't wait to come back for my hydra facial and coolsculpting."
- J.M. /
Google /
Nov 23, 2019
"Xo Skin Centre was a great experience for my cool sculpting needs. The office setting is really nice and the staff is amazing. My technician was very knowledgeable and kind and has a great personality. I am scheduled to go back for another treatment in a few weeks to address another area and I'm so excited."
- J.F. /
Yelp /
Jun 12, 2020
"Just left the ZO Skin Centre after having a MicroNeedling RF treatment. WOW! Stephanie did a fantastic service while making sure my comfort level was at ease. I'm looking forward to my next RF next month. I can tell the difference between regular MicroNeedling and the RF treatment. Thank you, Stephanie! Your soft touch made it that much more comfortable. See you soon"
- A.C. /
Yelp /
Dec 20, 2017
Previous
Next
CoolSculpting During the Procedure
During a CoolSculpting treatment session, patients are made to feel comfortable. They will feel slight pressure followed by coolness and warmth in the areas being addressed. Our licensed practitioner will place the cooling device on the designated area of the body where the fat is to be removed. The device will slowly move across the region that is being treated, pulling the fat pocket and tissue upward between the cooling panels. The freezing process occurs at this time, working to eradicate the fat cells. Most treatment sessions take about an hour and patients can resume their normal activities right after. There may be some tingling, numbness, and redness in the areas of treatment, but this subsides within the first 24 hours.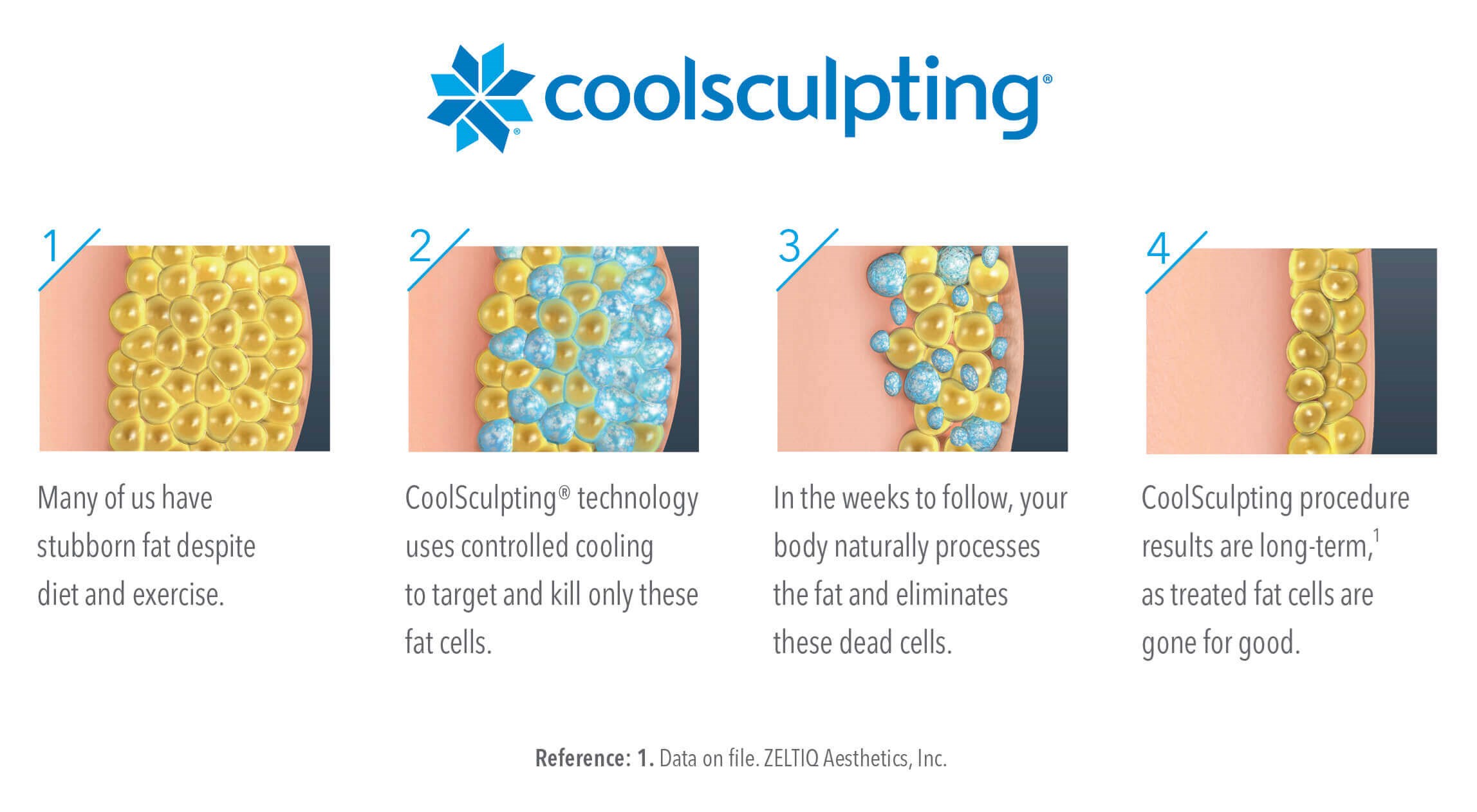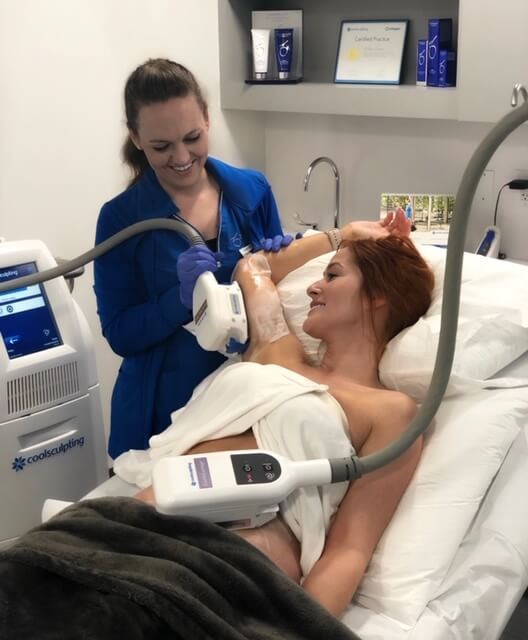 FREEZE THE FAT AWAY WITH THE COOLEST FAT REDUCTION TREATMENT IN TOWN
We can also offer you a time-saving "DualSculpting" at The ZO Skin Centre when you have a CoolSculpting treatment. This means that you can have two services at a time with two CoolSculpting machines treating multiple sides simultaneously. Instead of spending double the treatment time for both hips (for example), we can run two machines on the left and right hip at the same time.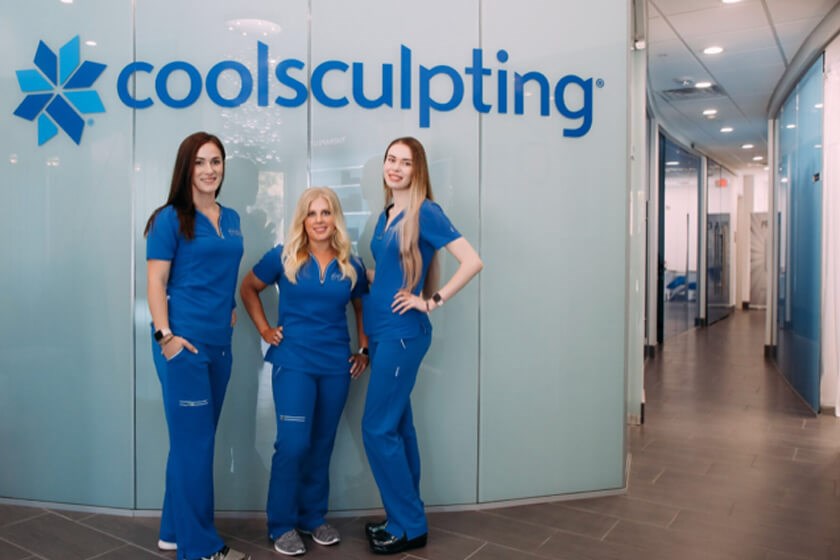 Schedule your procedure at our luxurious, state-of-the-art facility in Dallas, TX.
Yes. Studies have shown that with one CoolSculpting treatment, patients experienced a 20% reduction in fat after two months and a 25% reduction in fat after six months. Cryolipolysis has extensive research and years of studies behind the technology and can only be performed by trained, lisenced professionals. CoolSculpting is a patented technology tested and refined and now available worldwide.
CoolSculpting is a safe and effective way to reduce fat. It is a noninvasive procedure approved by the FDA. It is only applied to the skin's surface, so there is no need for sutures, downtime, or a lengthy recovery. There may be some slight swelling that could last for a week, but patients generally do not have any side effects from this treatment. The targeted fat cells are "frozen to death" and the fat is broken down by the body and released in its natural process.
While it is important to adhere to a healthy lifestyle and diet to maintain and optimize your slimming results, the treated fat cells (once eliminated) cannot regenerate. However, new fat cells can form, just like with any body part, if diet and exercise are not incorporated into your lifestyle.
This depends. Multiple treatments may be recommended for those who have thicker layers of fat in the target areas. Depending on the patient's aesthetic goals, the doctor may recommend one full treatment up to a number of treatments spanning a few months.
Related Procedures
Related Posts